Commercial Power Sweeping started in 1986 with one sweeper and a shared dream.
Today, Commercial Power Sweeping is recognized as one of the top power sweeping contractors in America.
We sweep, as well as perform a variety of other pavement-related and other services, throughout Virginia or North Carolina. You will find that we have the equipment and know-how to correctly handle virtually any type of pavement-based cleanup challenge and much more. When it comes to pavement sweeping, if it can fall onto pavement then chances are that we've tackled the cleanup before – probably many times!
Commercial Power Sweeping is a family-run operation.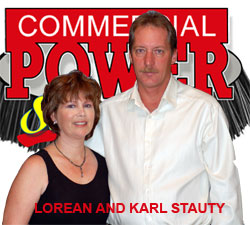 Our sweeper fleet has built, over time, to its current total of 10 parking area machines and eight street and construction sweeping units. The latter are a mix of air- and broom-based sweepers, so we have the mix of vehicles we need to enable us to put the right machine onto every job we do.
There is no federal or state certification or special licensing required for sweeping contractors. As you might imagine, in our two+ decades in operation we've seen a number of 'fly by night' sweeping contractors come and go. We believe this gives a black mark to our industry and we do everything we can to combat that type of operator.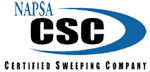 When the North American Power Sweeping Association (NAPSA) was started, Commercial Power Sweeping joined as an inaugural member. Today, NAPSA is the de facto national membership organization for sweeping in the U.S.
When NAPSA began its Certified Sweeping Contractor program, we were determined to be one of the first to gain Certification. Proving that our company was qualified to have this designation was one of the toughest challenges we've faced in all our years in the business.
We're very proud of the fact that we were the second company in the entire U.S. to gain the coveted Certified Sweeping Contractor status. Because of the difficulty to qualify, fewer than fifty sweeping contractors in the country have gained the Certification to date.

For many of the same reasons, we are also a Founding Member of the World Sweeping Association, as well as of its Ethics in Power Sweeping program. We believe all purchasers of sweeping services should confirm, prior to hiring, that their contractor of choice complies with the World Sweeping Association's Ethics Program. The requirements are sensible ones that all sweeping companies should be adhering to.
We emphasize professionalism in all aspects of our company. You will find that our employees are highly trained and very experienced at what they do. We have little employee turnover, in part becausee we offer a total benefits package to all full time employees. This includes a retirement plan, health care, dental, vacation, paid uniforms and paid foot wear.
We have found that our customers appreciate the fact our employees show up in uniform. We believe that working in uniform encourages our people to take more pride in their work and is a better reflection of the image we strive to have Commercial Power Sweeping to reflect.
In order to better assist our parking area sweeping clients, we have added many other services through the years. Today, these include most any exterior service that a property management might need done. For example, we are even one of the largest firms in our area that put up and take down seasonal signage.
We have a number of added value items for our many clients in the municipal and construction sector, as well. We have water trucks, dump trucks and more. Our attenuator (crash) trucks have been outfitted with 1,000 gallon water tanks in order to refill our sweepers on the jobsite and so save our customers time and money. Most of our sweepers are also able to sweep in sub-freezing weather. We have a variety of equipment, such as dump trucks and other equipment, that are ready to assist during street and construction cleanup operations.
Please take a look around our website to learn more about Commercial Power Sweeping. Then, give us a call to get all your questions answered. You may also choose to request a free needs assessment. You'll find that our team is well-trained and very professional in their respective specialties. They often have ideas that will result in your job being done in less time, more efficiently, or both.
We very much appreciate the high level of support we've received from the business community in Virginia and North Carolina. If we might be able to assist you, just let us know. We're be glad to help in any way we can.

– Lorean and Karl Stauty, owners
Commercial Power Sweeping