In addition to sweeping, Commercial Power Sweeping also performs many other services. Take a look at the many services we offer. Then, let us know if you have any questions or would like a free, onsite visit from our management professional in your area of need.
When you utilize Commercial Power Sweeping, with one phone call you can have a wide variety of exterior maintenance services performed, as well.
Event and Holiday Banner Installation/Removal
No matter what the event, we've got you covered. Commercial Power Sweeping is one of the leaders in the Mid-Atlantic when it comes to putting up banners for holidays, sales events and other specialized occasions.
We provide a bucket truck and a trained crew to place your decorations or signage wherever needed. Installation is quick, efficient and cost-effective. Then, when the event is over, we'll be there as scheduled to take it all down once again.
By utilizing our services, our customers have learned that it's easy to provide customers and passersby with outstanding promotional signage that's well off the ground and easy to read.
Large Item Removal
Got couch; refrigerator; overstuffed chair?! These days many retail properties are literally a magnet for dropped off items. Like it or not, sooner or later they'll show up.
Our sweeper operators are often the first to spot these derelicts on their night sweeping routes. We'll let you know what's there, typically by taking a picture of the item(s). Then, with your permission, we'll remove the items for you and transport them to a correct disposal location. No muss, no fuss, and little expense.
Sign Installation and Repair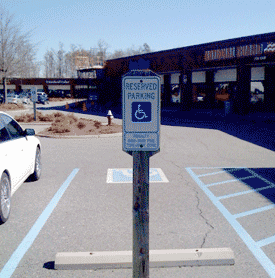 One of the ways to keep your property in top shape is to keep your signage in good repair. Whether you need new signs installed or current signs repaired or replaced, our experienced sign crew can handle it with efficiency.
In addition, upon your request we will be glad to provide you with a free needs assessment on your property. This will include making sure you're up-to-date with the current Americans with Disabilities Act (ADA) requirements. We'll also note any potential liabilities we spot with regard to traffic flow, inlet/egress, etc.
There are also some exciting new products on the market designed to make your existing signage bases look better and last longer, as well as ones that can actually pay for themselves through advertising revenue placed on them. The latter are also a good way to advertise promotions, who your major tenants are, and more.
Pavement Patching and Repair, Crackfilling, Striping... and More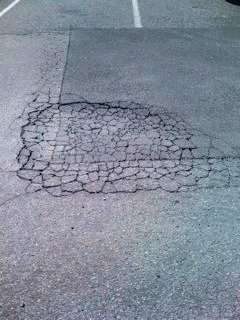 We'll keep your pavement problems from becoming big headaches... or lawsuits! The Commercial Power Sweeping sweeper operators are trained to keep a watchful eye on the condition of your pavement. When we do your pavement sweeping, we also notify you as soon as an area of deteriorating pavement is spotted.
Then, with your permission, we'll fix the spot for you early on, before it can become expensive, affect surrounding good pavement, or become a potential liability. This also keeps the cosmetic look of your property at its best at all times.
We also provide most all other pavement repair services, including crackfilling and striping. These types of services, when done early on, can also be a good investment for keeping you from having to make expensive repairs later on. If you would benefit from a free needs assesssment on your pavement's condition, please let us know.
Interior Sweeping and Scrubbing for Industrial Facilities, Warehouses, etc.
Commercial Power Sweeping also handles interior floor cleaning for a variety of clients. Just let us know what your needs are. We are also familiar with the latest in bio-enzyme applications that provide a very environmental solution for floors slippery due to spilled hydrocarbons (oils, grease, etc.). Just request one of our free needs assessments and we'll provide you with a complete evaluation.
Pressure Washing
Pressure washing is often one of the best ways to 'spruce up' your property's exterior.' Over time, paint becomes oxidized and flat surfaces like sidewalks get grimy and spotted with discarded gum and other debris. Our pressure washing team are pros at getting the results needed without harming the surface underneath.
Use of pressure washing equipment can also be used for graffiti removal. Just request one of our free needs assessments and we'll provide you with a complete evaluation and quote on any services needed.
Speed Bumps and Parking Control Wheelstops
Traffic control has enormous safety implications for your customers and, potentially, your pocketbook. It can be a challenge to keep traffic moving smoothly in and out of commercial properties. And, although you want a smooth, speedy flow, it's equally important to make sure it's safe for vehicles and pedestrians alike.
We are familiar with a wide variety of traffic flow solutions, and have installed them at numerous commercial properties through the years. If you think your traffic flow and/or safety might be improved, request one of our free needs assessments. We'll provide you with a complete evaluation as well as a quote on any services that appear needed.
... And Much More
Commercial Power Sweeping is truly a 'one call does it all' company. When our customers have a need that involves the exterior (and sometimes the interiors!) of their property, we're the one they call. From burned out lights to getting rid of collections of stuff left by departing clients and getting tenant spaces ready for re-occupation, we can probably handle it. And, chances are, our team has performed that particular task many times before.
When you have a problem you don't know how to solve, let us know. If we can't help you ourselves, we'll do everything we can to point you in the right direction.
If you would like a current reference list for any of the projects we handle, give us a call or use our contact form to request one.

Please let us know how we may assist you in any area by requesting a FREE professional assessment from our management team. We'll be glad to help you in any way we can.