Certifications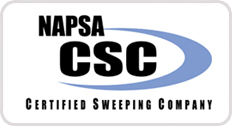 NAPSA Certified Sweeping Company
We are a long standing member of the North American Power Sweeping Association.
This demonstrates our company's commitment to quality and as a market industry. We're very proud of the fact that we were the second company in the entire U.S. to gain the coveted Certified Sweeping Contractor status. Because of the difficulty to qualify, fewer than fifty sweeping contractors in the country have gained the Certification to date.

Related Downloads:
Commerical Power Sweeping is a Certified NAPSA Contractor
Why Choose Commercial Power Sweeping
Our Company Code Of Ethics

Founding Member World Sweeping Association
We are a Founding Member of the World Sweeping
Association and Ethics in Power Sweeping program.
We believe all purchasers of sweeping services should confirm, prior to hiring, that their contractor of choice complies with the World Sweeping Association's Ethics Program. The requirements are sensible ones that all sweeping companies should be adhering to. We emphasize professionalism in all aspects of our company. Our employees are highly trained and very experienced at what they do.
Related Links:
CPS Receives Sweeping Excellence Award
Mr. Karl Stauty serving on World Sweeping Pros Advisory Board
CPS Contractor Listing World Sweeper.com
CPS Contractor NAPSA
Added Extra Services For Our Customers
In order to better assist our parking area sweeping clients, we have added many other services through the years. Today, these include most any exterior service that a property management might need done. For example, we are even one of the largest firms in our area that put up and take down seasonal signage.
We have a number of added value items for our many clients in the municipal and construction sector, as well. We have water trucks, dump trucks and more. Our attenuator (crash) trucks have been outfitted with 1,000 gallon water tanks in order to refill our sweepers on the job-site and so save our customers time and money. Most of our sweepers are also able to sweep in sub-freezing weather. We have a variety of equipment, such as dump trucks and other equipment, that are ready to assist during street and construction cleanup operations.