Sign Installation and Repair
One of the ways to keep your property in top shape is to keep your signage in good repair.
Whether you need new signs installed,  current signs repaired, or replaced our experienced building maintenance crew can handle it with efficiency. In addition, upon your request we will be glad to provide you with a free needs assessment on your property. This will include making sure you're up-to-date with the current Americans with Disabilities Act (ADA) requirements. We'll also note any potential liabilities we spot with regard to traffic flow, inlet/egress, etc.
There are also some exciting new products on the market designed to make your existing signage bases look better and last longer, as well as ones that can actually pay for themselves through advertising revenue placed on them. The latter are also a good way to advertise promotions, who your major tenants are, and more.
Give us a call at 757-238-2575 or use our contact form to reach us online.
Commercial Power Sweeping Is A 'One Call Does It All' Company
Signs that have been around for a while can need much more in the way of repairs and service to keep them in top condition. Sometimes signs are damaged by acts of nature or accidents. We can work to help you get those repairs/replacements completed. When you have a problem you don't know how to solve, let us know. We'll be glad to help you in any way we can.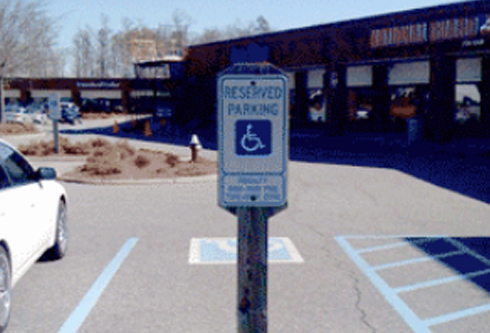 New signs installed or current signs repaired or replaced.