Pavement Patch Fill and Repair
Pavement Patching and Repair, Crackfilling, Striping… and More
We'll keep your pavement problems from becoming big headaches… or lawsuits! The Commercial Power Sweeping sweeper operators are trained to keep a watchful eye on the condition of your pavement. When we do your pavement sweeping, we also notify you as soon as an area of deteriorating pavement is spotted.
Then, with your permission, we'll fix the spot for you early on, before it can become expensive, affect surrounding good pavement, or become a potential liability. This also keeps the cosmetic look of your property at its best at all times.
We also provide most all other pavement repair services, including crackfilling and striping. These types of services, when done early on, can also be a good investment for keeping you from having to make expensive repairs later on. If you would benefit from a free needs assesssment on your pavement's condition, please let us know.
Give us a call at 757-238-2575 or use our contact form to reach us online.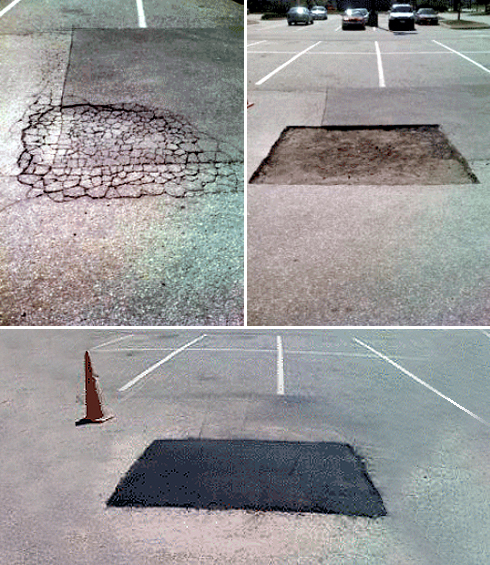 Extra Added Services For Our Customers
In order to better assist our commercial sweeping clients, we have added many other services through the years. Today, these include most any exterior service that a property management might need done. For example, Pavement Patch Repair, Interior Sweeping and Scrubbing, Speed Bumps and Parking Control, Large Item Removal, Sign Installation/Repair, Pressure Washing and Event Banners Installation and Removal. We have a number of added value items for our many clients in the municipal and construction sector, as well.
We have water trucks, dump trucks and more. Our attenuator (crash) trucks have been outfitted with 1,000 gallon water tanks in order to refill our sweepers on the job-site and so save our customers time and money. Most of our sweepers are also able to sweep in sub-freezing weather. We have a variety of equipment, such as dump trucks and other equipment, that are ready to assist during street and construction cleanup operations.